LE FRANÇAIS AVEC YASMINE:
Episode 21: Quelle est la différence entre venir, revenir, rentrer et retourner?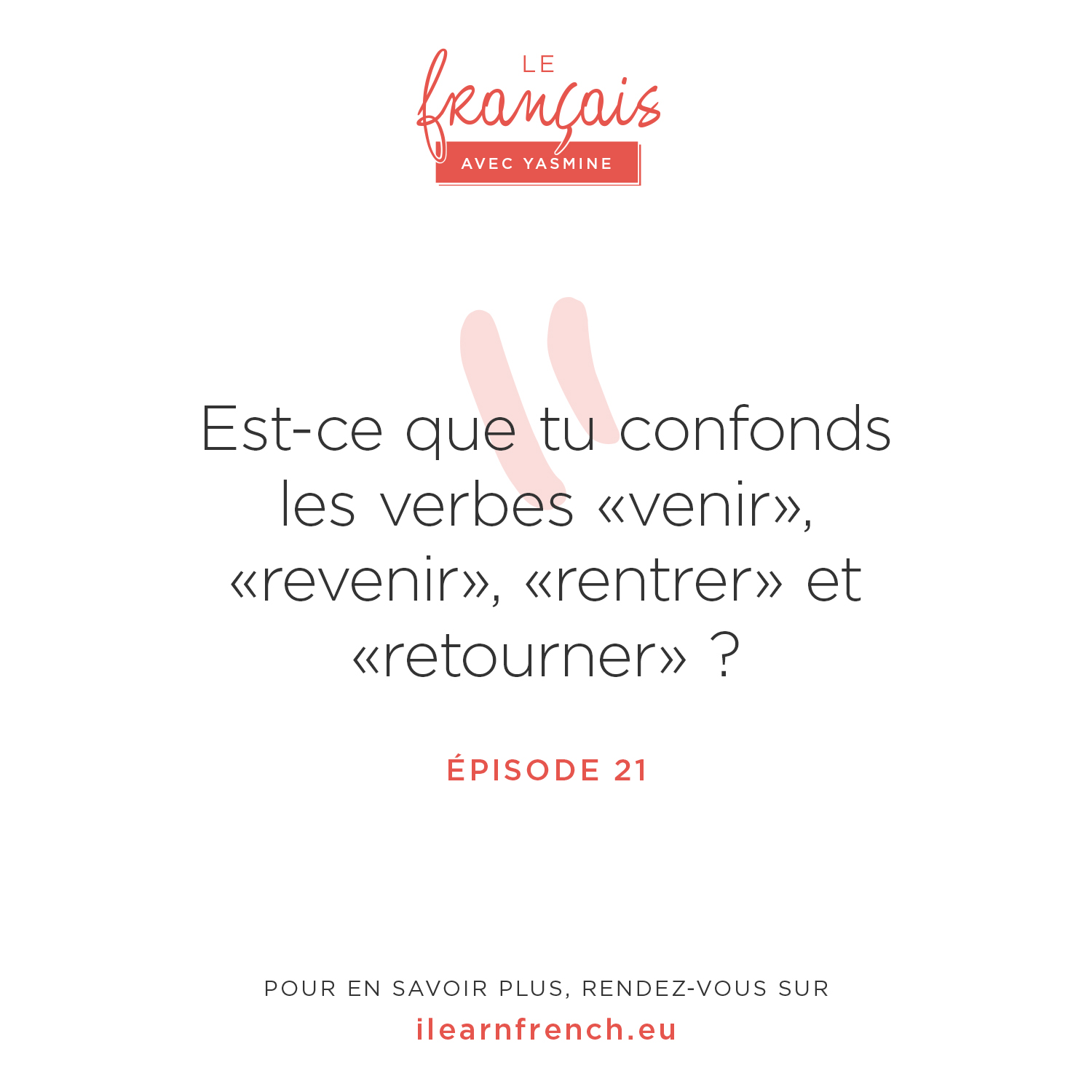 Connais-tu la différence entre "venir", "revenir", "rentrer" et "retourner"?
Il est tout à fait normal de confondre ces 3 verbes qui ont une signification très similaires mais ils ne sont pas utilisés de la même manière. En fonction de ce que tu veux dire, tu utiliseras un verbe plutôt qu'un autre.
Dans cet épisode, je t'explique la différence entre ces verbes et comment les utiliser sans te tromper.
Pour cet épisode, Noemie nous a ajoutés également des petites chansons 🎶 et ça donne trop bien! 
Je suis super contente de cet épisode et j'espère qu'il te plaira aussi 
Bonne écoute!
A bientôt, 
Yasmine Lesire 
Des questions? Contacte-moi sur les réseaux sociaux.
La musique de cet épisode est créé par le groupe Beam.
Merci à Maayan Smith et son groupe pour la musique.
Pour suivre le groupe Beam:
https://www.facebook.com/beamband/
https://store.cdbaby.com/cd/beam3
Tu étudies avec nous? Télécharge ta transcription de ce podcast ! 
🇫🇷 Si tu as déjà pris des cours, tu peux t'inscrire afin de télécharger les transcriptions au format PDF.
Je n'ai pas encore de compte / I don't have an account yet
Je possède un compte / I already have an account
Tu veux lire la transcription d'un épisode?
🇫🇷 Inscris-toi et reçois la transcription d'un épisode du podcast gratuitement! En plus d'une transcription, tu recevras ta dose de français et l'épisode du podcast "le français avec Yasmine" dans ta boîte mail tous les jeudis. Tu peux te désinscrire à tout moment. Le niveau intermédiaire est recommandé.
🇬🇧 Receive a transcript of one episode of the podcast for free. Life-time access to all transcripts is only available for our students. In addition of one transcript, you'll receive your weekly dose of French in your mailbox. You can unsubscribe anytime. Intermediate level required.