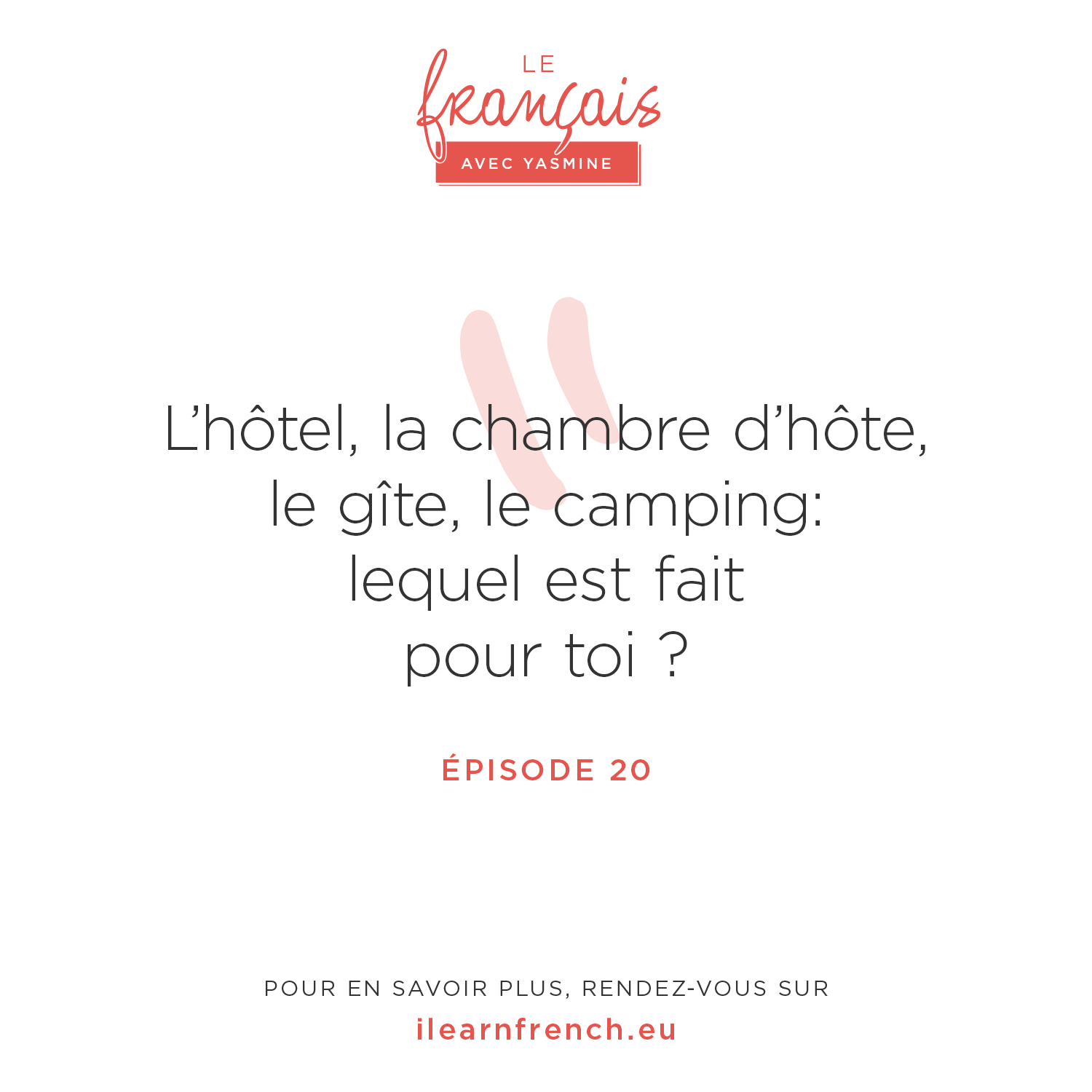 Je suis en vacances à la Baule. Je me repose, je lis et je mange! J'ai mangé les meilleures crêpes de ma vie! Quelle délice! 
Je recommence les cours dès le 1er septembre.  Et toi? Tu reprends les cours aussi en septembre? 
Si tu veux t'inscrire au cours intensif, comme d'habitude, c'est par ici. 
C'est déjà le 20e épisode du podcast! 20 épisodes = 20 semaines qu'on a commencé cette aventure ensemble. On a déjà vécu un confinement, un déconfinement et les vacances ensemble! 
Pour ce 20e épisode, je t'emmène en vacances et je te laisse choisir où on dort. Entre l'hôtel, la chambre d'hôte, le gîte, l'auberge de jeunesse, le camping, qu'est-ce que tu choisis? 
Je te fais de gros bisous plein de fraicheur 
Bonne écoute,
Yasmine
_______________________________________________________________________________________________________
Pour continuer cette conversation et améliorer ton français avec moi, rendez-vous sur www.ilearnfrench.eu
Si tu veux m'envoyer un message et me suivre sur les réseaux, suis-moi et ajoute-moi. Je te répondrai personnellement.
🎼 La musique de cet épisode est créée par le groupe Beam. Merci à Maayan Smith et son groupe pour la musique.
Pour suivre le groupe Beam:
Did you know that le français avec Yasmine is an amazing membership with transcripts of the podcast available only for members.
Want to join the conversation?