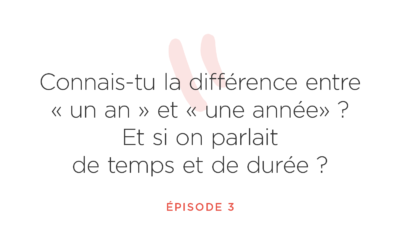 LE FRANÇAIS AVEC YASMINE: Episode 3: Quelle est la différence entre jour, journée, soir, soirée? Apple Podcasts Spotify Deezer Bonjour, Dans cet épisode, je t'explique la différence entre les mots suivants : matin et matinée jour et journée soir et soirée an et année...
Un mail. Le jeudi matin. 
🇫🇷 Reçois ta dose de français et l'épisode du podcast "le français avec Yasmine" dans ta boîte mail.  Cette newsletter privée et totalement exclusive est 100% en français. Tu profiteras de contenu unique et des bons plans pour t'aider à progresser et pratiquer ton français.  Le niveau intermédiaire est recommandé. 
🇬🇧 Receive your weekly dose of French in your mailbox. This exclusive and private newsletter is private is 100% in French. You'll enjoy unique content and tips to progress and practise your French. Intermediate level required.