LE FRANÇAIS AVEC YASMINE:
Episode 14:  Quelle est la différence entre "au fait" et "en fait"?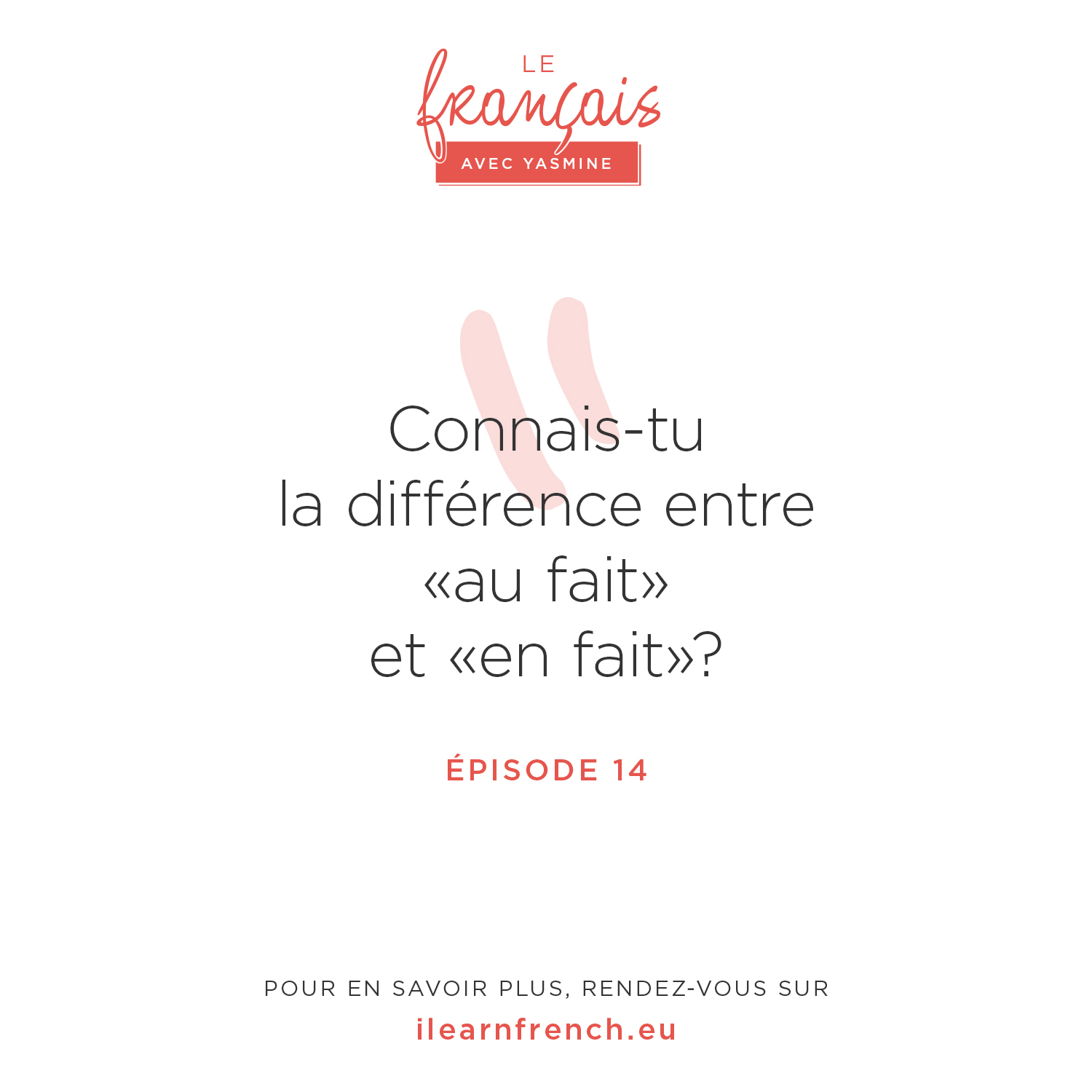 Quoi de neuf depuis le dernier épisode?
Au fait, les cours intensifs ont commencé hier et je suis trop contente. L'avantage des cours en ligne est que tu peux aider des personnes du monde entier. En fait, j'aide des étudiantes basées à Paris, Bordeaux, Brussels, Londres, Johannesburg, Melbourne, Singapore et même Los Angeles. En fait, c'est trop chouette! Je n'aurais jamais imaginé pouvoir aider autant de gens en même temps. Merci Internet. 
L'accès à vie et illimité aux transcriptions est réservé uniquement aux élèves de l'école I Learn French. Si tu souhaites avoir une copie gratuite d'une épisode du podcast, vas vite sur la page de mon podcast.
Au fait, concernant l'épisode, je te parle de la différence entre en fait et au fait. 
Bonne écoute, 
Yasmine Lesire 
La musique de cet épisode est créé par le groupe Beam.
Merci à Maayan Smith et son groupe pour la musique.
Pour suivre le groupe Beam: 
https://www.facebook.com/beamband/
https://store.cdbaby.com/cd/beam3
Tu étudies avec nous? Télécharge ta transcription de ce podcast ! 
🇫🇷 Si tu as déjà pris des cours, tu peux t'inscrire afin de télécharger les transcriptions au format PDF.
Je n'ai pas encore de compte / I don't have an account yet
Je possède un compte / I already have an account
Tu veux lire la transcription d'un épisode?
🇫🇷 Inscris-toi et reçois la transcription d'un épisode du podcast gratuitement! En plus d'une transcription, tu recevras ta dose de français et l'épisode du podcast "le français avec Yasmine" dans ta boîte mail tous les jeudis. Tu peux te désinscrire à tout moment. Le niveau intermédiaire est recommandé.
🇬🇧 Receive a transcript of one episode of the podcast for free. Life-time access to all transcripts is only available for our students. In addition of one transcript, you'll receive your weekly dose of French in your mailbox. You can unsubscribe anytime. Intermediate level required.