LE FRANÇAIS AVEC YASMINE:
Episode 27 : "Je t'en prie" ou "Je vous en prie" ?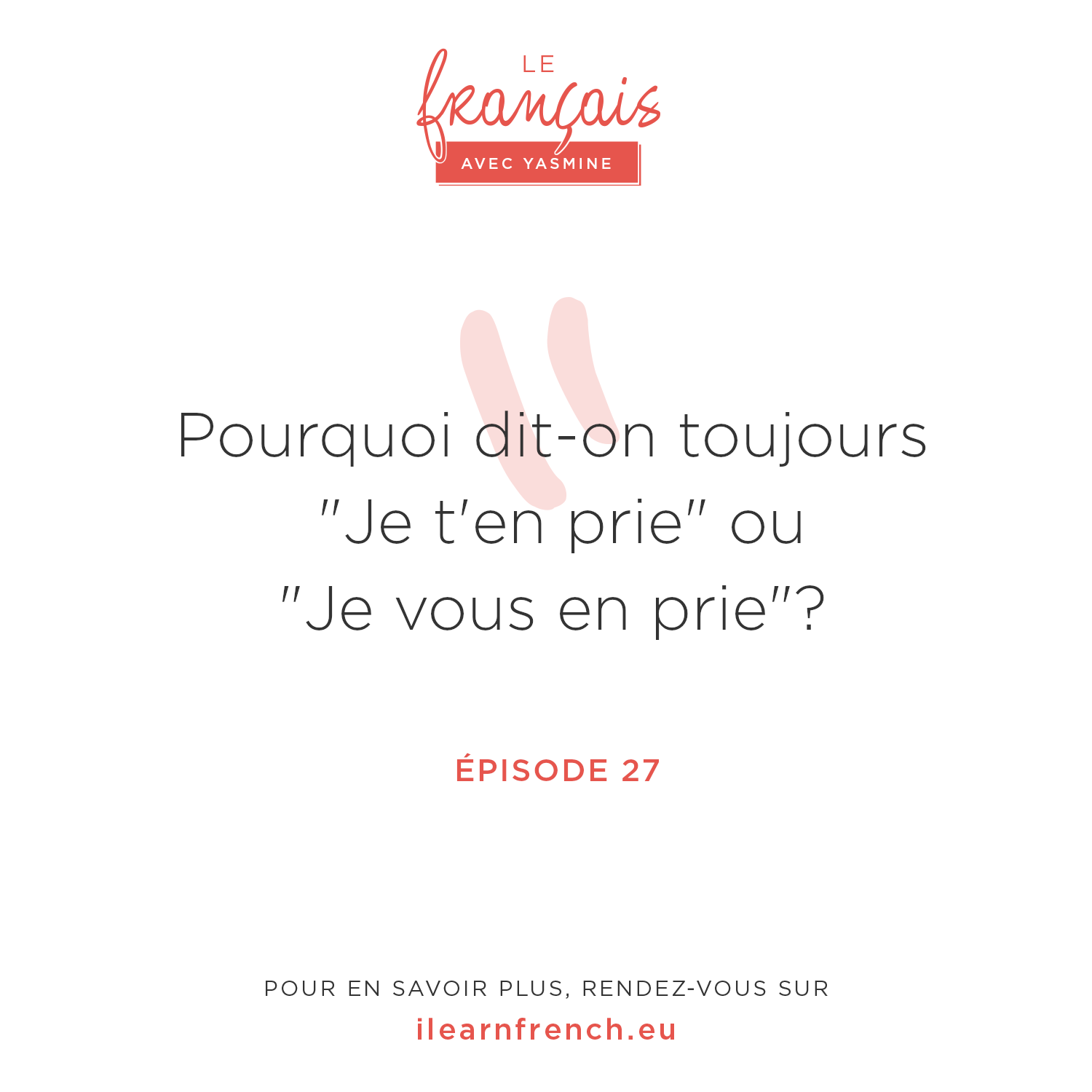 Sais-tu faire la différence entre : 
"Je t'en prie" 
et
"Je vous en prie"?
Ces expressions courantes sont utilisées pour faire une demande ou dans des formules de politesse telles que "Je vous prie d'agréer mes salutations les plus distinguées."
Mais saurais-tu laquelle de ces deux expressions utiliser en fonction de la situation dans laquelle tu te trouves ?
Dans ton  podcast cette semaine, je t'invite à en apprendre plus sur l'utilisation du verbe prier pour demander quelque chose ou pour être poli.
Allez ! Ne te fais pas prier !
Va vite écouter ce nouvel épisode.
Envie de tenter de gagner un cours particulier en français ? Bonne nouvelle je t'offre en un cours privé avec moi si tu es l'heureux élu de mon jeu-concours. Clique ici pour participer. 
Yasmine Lesire 
Des questions? Contacte-moi sur les réseaux sociaux.
Tu étudies avec nous? Télécharge ta transcription de ce podcast ! 
🇫🇷 Si tu as déjà pris des cours, tu peux t'inscrire afin de télécharger les transcriptions au format PDF.
Je n'ai pas encore de compte / I don't have an account yet
Je possède un compte / I already have an account
Tu veux lire la transcription d'un épisode?
🇫🇷 Inscris-toi et reçois la transcription d'un épisode du podcast gratuitement! En plus d'une transcription, tu recevras ta dose de français et l'épisode du podcast "le français avec Yasmine" dans ta boîte mail tous les jeudis. Tu peux te désinscrire à tout moment. Le niveau intermédiaire est recommandé.
🇬🇧 Receive a transcript of one episode of the podcast for free. Life-time access to all transcripts is only available for our students. In addition of one transcript, you'll receive your weekly dose of French in your mailbox. You can unsubscribe anytime. Intermediate level required.