LE FRANÇAIS AVEC YASMINE:
Episode 28 : Qu'est-ce qu'un "Rendez-vous" ?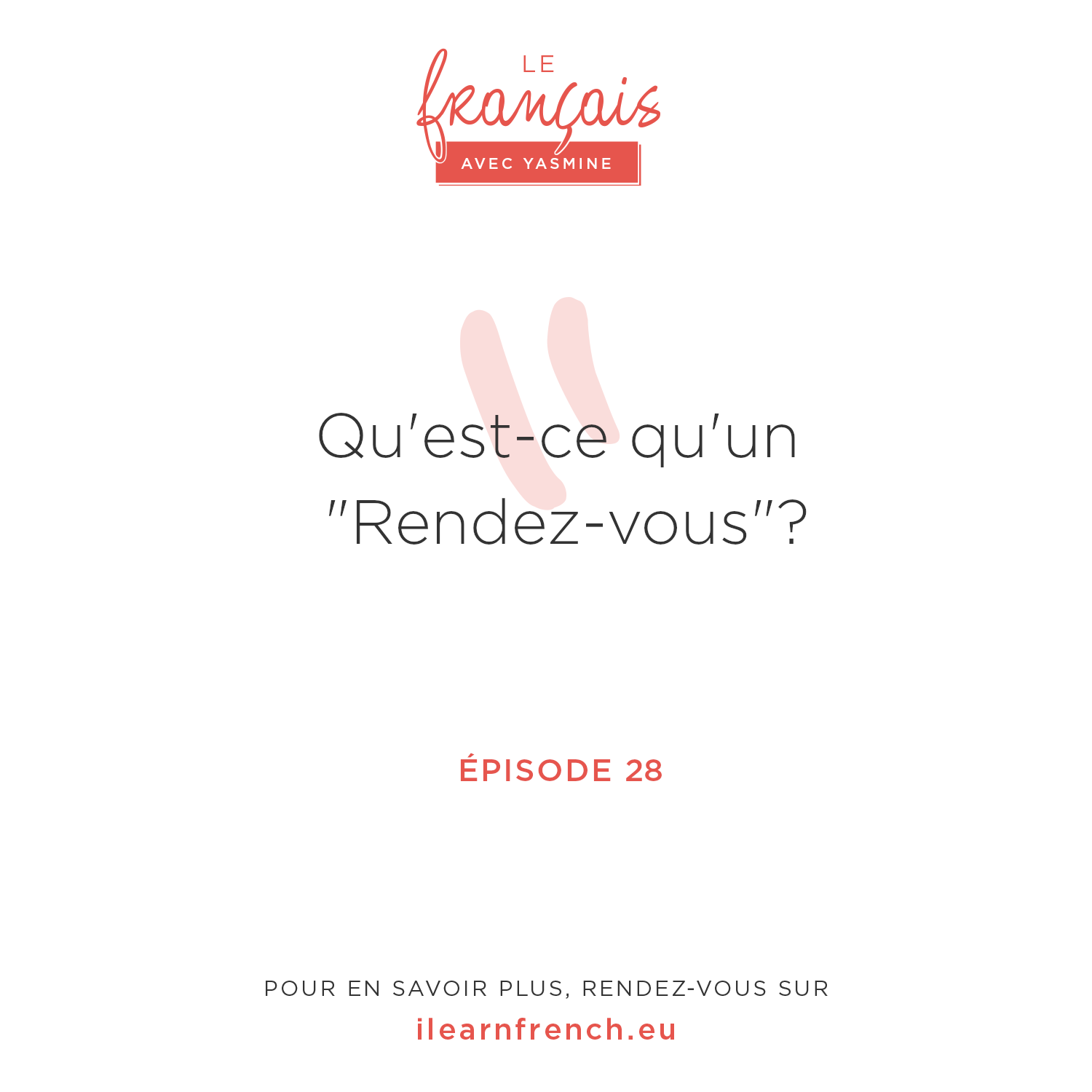 Je suis ravie de te retrouver pour notre rendez-vous hebdomadaire.
Cette semaine, je te donne rendez-vous sur ton podcast pour apprendre à parler du "rendez-vous". 
Le rendez-vous est un moment ou un endroit pour se retrouver. ☕
Sais-tu comment demander un rendez-vous ou prendre rendez-vous avec quelqu'un?
Dans cet épisode, je t'apprends à donner rendez-vous à quelqu'un, que ce soit pour une rencontre amoureuse, pour parler d'un lieu de rendez-vous ou pour donner un rendez-vous professionnel. 
À  toi maintenant ! Où me donnes-tu rendez-vous ?
J'ai déjà ma petite idée ! 
👉Pour prendre rendez-vous pour des cours en ligne avec moi, il suffit de t'inscrire à la session de novembre. 
À très vite,
Yasmine Lesire
Des questions? Contacte-moi sur les réseaux sociaux.
La musique de cet épisode est créé par le groupe Beam.
Merci à Maayan Smith et son groupe pour la musique.
Pour suivre le groupe Beam:
https://www.facebook.com/beamband/
https://store.cdbaby.com/cd/beam3
https://open.spotify.com/album/0wh9CvbPVNMi9wdqqBFFBW
Tu étudies avec nous? Télécharge ta transcription de ce podcast ! 
🇫🇷 Si tu as déjà pris des cours, tu peux t'inscrire afin de télécharger les transcriptions au format PDF.
Je n'ai pas encore de compte / I don't have an account yet
Je possède un compte / I already have an account
Reçois gratuitement une transcription! 
🇫🇷 Les transcriptions du podcast sont disponibles uniquement pour les élèves d'I Learn French.Exceptionnellement , je t'offre une transcription. Inscris-toi pour la recevoir! 
🇬🇧 Transcripts of the podcast are available only for students. I made an exception and I give you one transcript for free. Sign-up! 
I agree to giving my data and receiving email updates from Yasmine Lesire and I Learn French.