Master your French skills with my ultimate guide to the best French podcasts
Podcasts are old-fashioned and for dinosaurs!
If this is what you think, then I'll change your mind in no time with my list of the best French podcasts.
In this article, I'll convince you that listening to French podcasts will make a positive impact on your learning. I'll be sharing valuable resources with you, to help improve your French while listening to podcasts.
Podcasts were launched in 2004 by Adam Curry and Dave Winer; today, there are podcasts in almost every language. As a consequence, French is no exception. For the last decade, thanks to all Gods of the universe, podcasts are a deep method of communication. I knew about podcasts for many years, but I never took the time to look at them closely. I rediscovered podcasts in 2018 when I was invited on Revolution Digitale's podcast to talk about my career as a French teacher and school founder. Since then, I've discovered so many inspiring people and entrepreneurs thanks to their interviews.
I've also tried listening to podcasts on a regular basis to improve my Portuguese and my English. And you know what? It works!  Podcasts are probably the best audio resources we have in terms of quality and content. In addition, when learning a foreign language our brain needs to be immersed by the language and, after a couple of episodes, we tend to imitate the sounds and expressions we hear. It's amazing how powerful podcasts are in terms of improving listening comprehension. Podcasts are also very deep.
According to me, this is the added value of listening to podcasts and why you should go for it right now:
You choose the content and the topic you want to listen to.
You choose when you want to listen to it.
You choose where you want to listen to it.
You choose how you want to listen to it.
It's mostly free.
Podcasters and interviewers are not mainstream people, so you can discover hidden gems of talent.
You are part of a community.
The opposite of the radio as it's journalists, podcast speakers, and interviewers who are passionate about the topic they discuss.
You can slow down the speed if needed.
It's the only multitasking way to learn something while doing something else (cooking, walking, running, working…)
It re-educates your listening skills. Nowadays, we tend to listen to only parts of speech.
You may ask: and how can it help me in improving my French?
It helps you improve your listening skills! You know, francophones speak very fast; practicing and improving your listening skills is essential for your progress in French.
Now, which podcasts should you listen to? Any podcasts talking about a topic that seems enjoyable to you!
Can you listen to podcasts whatever your level?
No, definitely not. I highly recommend that you listen to podcasts once you've reached the level B1 (lower intermediate). In other words, podcasts are not adapted for beginners (sorry about that!)
Before listening to a podcast, please be aware that two major houses of podcasts are Nouvelle écoute and Binge audio. Some podcasts are also related to newspapers, such as Slate.fr or radio channels.
Are you ready to improve your listening skills in French with podcasts? You can download the podcast app on iOS or XXX for Android. Most podcasts are available on iTunes, SoundCloud, etc.
Now that I've convinced you that podcasts are THE media that'll help you learn and improve your French, here you go with my selection:
The foodies: Foodcasts
Plan culinaire: Treats the relationships we have with food.
Bouffon (Nouvelle écoute): The host was recently fired for being a dick (a member of the "Ligue du Lol"- a cyber harassment group). I hope by the time you read these lines, someone else will be running the program.
Fini tes légumes (Slate): In this podcast you will discover and understand what's on your plate and, in particular, what is missing from it. As they promote it:  Finis tes légumes
"Un légume, une idée, une recette, le vendredi sur Slate."
Les casseroles (Binge audio): Zazie Tavitian gives you all her secrets: recipes, restaurants, bars, épiceries, and places to try. She tells you everything about food and the best places to share with friends. Airs every other Thursday.
À Poele: (The same pronunciation as the French expression "à poil" [pwal], which means 'everybody naked' – yes, I know…) Super chefs will no longer have any secrets from you. Discover how they became a chef, where and how they started, their tips, their passions…
La Grosse Bouffe: Bouffe is a slang word for food. It's also a verb: bouffer. It's commonly used among people but can be a bit vulgar sometimes. If President Macron invites you for dinner, please don't tell him that La bouffe est très bonne.  This podcast is dedicated to food and drink in all their shapes. It isn't filtered and it's absolutely honest. Plus, you can learn some slang expressions at the same time.
L'épicurieuse: A play on words with épicurienne and curieuse. This 10 minute podcast explores the new trends in terms of food, typical cuisine, and ingredients by explaining them in detail and interviewing experts.
Entrepreneurship
Revolution digitale: Mon chouchou! This is probably my favorite podcast – it's by far the best podcast in French to get inspired by francophone entrepreneurs from around the world. Last year, I had the chance to be interviewed for the very first time and you can even listen to me talk about my career and how I became a French teacher and school manager here. Whoop whoop!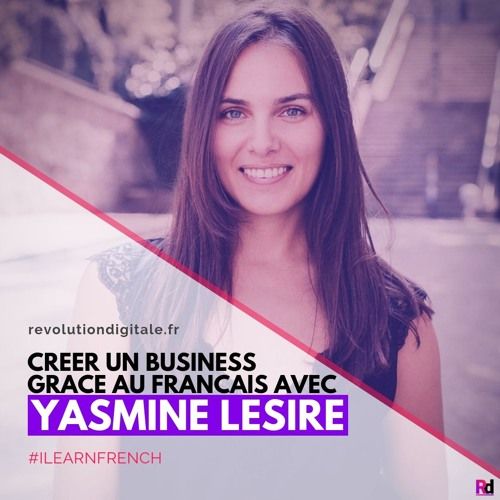 Generation XX: As you can guess by the name, this podcast is dedicated to women entrepreneurs. Siham Jibril interviews inspiring women about their projects and their business, everything in French. It's a great podcast for believing in your ideas thanks to testimonies. Yes, you can!
Antoine BM: Antoine BM is a young French entrepreneur who decided to stop his university studies and create his own online school. He offers podcasts and YouTube videos to help people create their own business online. He gives tips about content creation, audience improvement… I really enjoy his podcasts as well as his online courses.
Vécus: Vécus means lived in French. Yes, it's the past participle of the weird verb vivre. Je vis —> j'ai vécu. This podcast encourages you to build your career with impacts! They give you their best tips and share with you their successes and their failures.
Le gratin: Pauline Laigneau, founder of the jewelry Gemmyo, interviews guests about their career, their successes, failures, tips, and philosophy. Her objective is to give a maximum amount of information in less than an hour so you can apply these ideas to your own projects. I highly recommend you listen to her interview with Revolution Digitale.
Nouvelle école: An inspiring podcast with interviews of French-speaking entrepreneurs. Unfortunately, they won't create any new episodes but, the former episodes are very, very inspiring and the content won't be outdated at all.
Marketing Mania: This podcast that helps you convert visitors into buyers. If Marketing is not your cup of tea and you would like to explore and learn more about it, this podcast is for you. Learn how to attract customers… in French.
Nomade digitale: 52 podcasts for people who want to control their work, their life, and their time by being able to work wherever they want in the world. It sounds like a dream, doesn't it? Even if Stan and Paul stopped publishing new episodes, the past episodes are a great source of inspiration and full of tips to be successful and reach the next level.
Le podcast de l'entrepreneur: Morgane Février, a serial entrepreneur, is probably the pioneer in terms of podcasts about entrepreneurship in French. She started in 2016 and published more than 170 episodes; this is the podcast you need if you are looking for tips, advice, and support. The audience is for aspiring beginner, about to be, and confirmed entrepreneurs. Which one are you?
Generation do it yourself: By Mathieu Stefani, happy founder of the digital agency Cosavostra. Mathieu invites entrepreneurs to talk about their business, challenges, failures, and successes. The length of the interviews is long enough to really understand deeply entrepreneurial opportunities and get into a wide variety of aspects about business.
Work and career
Outils du Manager: This is the most listened-to podcast about management. They tell you everything you need to know to become a better manager. If you are working in a French-speaking environment, this podcast will be a great opportunity to improve your vocabulary and also understand cultural and social aspects.
Happy work (LCI): Gael Chatelain talks about wellbeing at work and how to improve our work every day. He spent more than 20 years working in corporate as a manager and today he gives tips about his personal experience.
Productiv'you: One of those rare podcasts with a transcription available, which is ideal for French learners. This is a great podcast to effectively combine the personal and professional without stress.
The humour
Floodcast: A funny podcast presented by Florent Bernard, alias FloBer, where he invites his friends to discuss many things with humour, of course.
Interviews
Vieille branche (Nouvelles écoutes): Vieille branche is a friendly expression we use in French to talk about old people. I also personally use it to address my close friends when I text them: comment tu vas vieille branche? Or quoi de neuf vielle branche? As you may know, getting older is a touchy topic and France is no exception. Every two months, the journalist Marie Misset interviews personalities older than 75 who used to work in culture, politics, fashion, etc.
Nice to hear you: Discovered thanks to the amazing Carole Cornet, the founder of the great online magazine Brussels is yours, Nice To Hear You is a conversation with entrepreneurs, creators, artists, and other human beings about light topics and/or society's topics. Every episode helps listeners to discover the life and opinions of the guests. It's available every other Friday (or almost – ou presque)
Society
Splash (Nouvelles écoutes): Etienne Tabbagh and Lauren Melka are the coolest economy teachers in France. They dissect the trickiest questions from the public debate. Splash is the podcast about economy with zero bullshit.
Miroir miroir (binge): A podcast about representations, beauty, body, and norms brought forward by medias, society, and the eyes of others. Jennifer Padjemi receives authors, artists, or testimonies to learn of how to destroy the standards imposed. This airs every other Tuesdays.
C'est compliqué: It's complicated. A podcast about issues people face in life such as "I'm sleeping with an extreme right-wing guy and I feel bad" or "my best friend is a mythoman".
VLAN!: A podcast presented by Gregory Pouy, a successful digital marketer, to understand our society. Vlan! is a conversation with experts to discuss and understand our moving society. Listen to his inspiring interview with Revolution Digitale Here.
Reportage / documentary
Mourir moins con: Mourir moins con, which means literally "die smarter" or "die less dumber", is the best podcast to increase your culture générale and shine in society. If you live in France or are surrounded by French people, you probably know that the French loooooove culture générale. The podcast is funny and topics are very well explained. You will learn many cultural aspects linked to the French language and the French/francophone society.
Maintenant, vous savez: Another amazing podcast about culture générale. This podcast is also suitable for teenagers – I give it an extra 5 stars as the diction is slow and easy to listen to.
Ladies first
I want to make myself very clear about the following selection. This is a selection of podcasts which mainly address perspectives of women and the content is created for and by women. However, this is an invitation for absolutely every woman and man reading this article.
Quoi de meuf (Nouvelles écoutes):  The name of this podcast is a play on words that comes from a mix between the expression quoi de neuf (what's up/what's new) and meuf (women in verlan- slang).  So yes, you got it, it's a podcast about women. It's presented by:
Clémentine Gallot, co-founder of the newsletter Quoi de meuf  (I couldn't find the link – sorry about that).
Kiyémis, blogger and afrofeminist poet.
Julie Hamaïde, founder of Koï, a magazine about Asian culture.
Anne-Laure Pineau, journalist specializing in LGBT matters.
Pauline Verduzier, journalist obsessed by sexuality.
This is a crazy and fun conversation with no filter or taboos where Beyoncé is taken very seriously.
Une sacré paires d'ovaires: An international and feminist podcast for ladies and by ladies who run the world.
Championnes du monde: Great podcast about badass females in the sport industry. Because, yes, women in the sport industry are also inspiring and passionate. Let's put the spotlight on those amazing women.
La poudre (Nouvelles écoutes): The most famous podcast about feminism hosted by the fabulous Lauren Bastide. Lauren is amazing and her conversations with her guests are very inspiring and interesting. If you would like to know more about feminism in French, this is your podcast.
Les couilles sur la table (Binge):  This literally means balls on the table. If you ask francophones what podcast they listen to, Les couilles sur la table will for sure be one of them. It has been created to discuss men in society and the relationship and space occupied by women. It's presented by Victoire Tuaillon every other Thursday.
FemmesProd: Finally, a podcast "made in Belgium" by the talented Chloé de Bon. The aim of the association FemmesProd is to make women visible, to empower them, and address topics that they encounter throughout their life such as birth control, medical violence, stereotypes, having or not having kids, etc. through podcasts and workshops in Belgium.
Fashion
Chiffon: A podcast for the fashionista in French. The Journalist Valérie Tribe interviews women and men, famous or not, from various cities and countries about our relationship with clothes and fashion.
IFM: The podcast of the prestigious Fashion Institute of Paris.
Maman and parenthood
La plus belle maman: This podcast is for mothers or soon-to-be-mothers. Each episode shows the life of a mom or the opinion of a professional about kids.
Tourbillon: Whirlwind in French. Moms, and this time fathers as well, take the mic to say together how they live and their daily life. This honest podcast meets mothers of the world and discusses without filters a wide variety of topics surrounding the parenthood.
Empowerment des Mamans: The podcast about maternity. Founded by the blogger Kristelle Cardeur, this podcast invites moms and moms-to-be to share their experiences, resources, and tips about wellbeing.
La matrescence: Contraction of the word maternité and adolescence, which means the birth of a mother. This podcast, presented by Clémentine Sarlat, talks about the life of parents or parents-to-be to give them the tools and keys thanks to interviews with professionals and testimonies of parents.
Mariés, 3 enfants: The only podcast realised by a married couple who have three kids. They discuss the life of a family.
Nouveau chapitre: New Chapter explores the joys and challenges of parenthood through interviews.
Environment
Bon plants (binge): This expression is a play on words with the expression bon plan which means good deals/tips. This podcast shares tips about agriculture in cities and the vegetal conquest. 
Les carencés: A podcast about the animal rights cause and its impact on society and the environment. Enjoy news, strategies, arguments, and analysis all in French. This podcast is informative and pragmatic as it tries to go further than the activist speech. Level C1.
Basilic: A podcast dedicated to the environment and positive initiatives.
Ethnic
The Why le poukwa: The only afro podcast that tells you what you need to hear.
Tchip (Binge): The black pop culture podcast presented by Mélanie Wanga, Kévi Donat, and François Oulac. Every two weeks on Thursday.
Kiffe ta race (Binge): Kiffe in French means enjoy. Actually, it's not even a French word – it originally comes from the Arabic word for smoke. Kiffe ta race means "enjoy your race". I want to draw your attention to the fact that the name of the podcast is a play on words. In French, it's strictly forbidden to use the word race to talk about people. It's a no-no – forget it! In France, statistics about race, ethnicity, and origins are totally forbidden. As a consequence, the word 'race' is only used to talk about animals. In addition, culturally, if a non-white person tells you that they are French, don't insist with a phrase like, "not you, but your parents, you know… what are your origins?" They are French. Point à la ligne.  With that being said, this podcast explores all the racial questions through conversations and lived experiences by the journalist Rokhaya Diallo and Grace L'y. On Tuesday, every two weeks.
Sport
Paroles de Yogis: This podcast is 100% yoga.
Jogging bonito: This is the podcast for runners (bonito, as they called them in the podcast), its culture, and its environment. Runners, what better way to improve and practise your French than listening to a podcast about your passion? Are you a bonito?
KM42: Bertand Soulier explains his challenge about running a marathon. He explains why he runs, his doubts… Fun fact: soulier means shoes in French 😉
Masculinity
The boys club:  A podcast about masculinity, finally! Men are interviewed to talk about relationships they have with their gender and their clichés about their virility.
The Mansplaining (slate): A podcast about masculinity to remind that masculinity is not unique but plural.
Histoires de Darons: A podcast about fathers and fatherhood. Daron means father or parents in plural in slang. Guests talk about their lives and relationships with their kids.
Les gentilshommes (Binge): Three guys investigate the relationship between men and women. To do so, for each episode they invite a woman to talk about a certain topic.
Military and defence
Le collimateur: The podcast about the army and defence strategy.
LGTB+
Quoïr (nouvelle écoute): Enjoy nice discussions related to LGTB+ matters and coming out in French.
Sexuality
Sur leurs lèvres (Cheek Magazine): Men talk about what they know about the sexuality of women.
Coucou le Q: A podcast about sexual education. Listeners ask questions about sexuality.
Personal development  
Change ma vie : A podcast presented by the certified life coach Clotilde Dusoulier. You'll discover advice about many different topics in French, such as how to become an optimist or to welcome emotions. She described her podcast perfectly: this podcast is a tool for your mind.
Emotions : A podcast that puts words on feelings, in French. Presented by Adélie Pojzman-Pontay.
La bonne graine (binge.audio): Another play on words – again, because the French love that. The common expression is mauvaise graine and it's used to talk about a bad influence. Enjoy meetings with university students in French about their studies and their life.
La graine de réflexion: The founder wants to share with you some reflections and thoughts to reach a happier and more harmonious life. It's also a question of observations and doubts faced by young generations.
Simple &Cité: The podcast by Florie about a simple life in a modern world. She explores minimalism, slow trends, ecology, and the simplicity of the things around us. I give her a 5-star rank for her amazing pronunciation which makes her podcast very easy to listen to.
Café coaching: A podcast about many different topics surrounding self-development such as the generation X and Y, shiatsu, or the burn-out.
Wellbeing
Healthy living: A podcast created by Marion Pezard. She scans the new trends for wellbeing and discovers people who are dedicated to doing good for yourself!
Beauty toaster: The very first podcast about beauty and wellbeing in French. Chantal Soutarson, journalist, explores new trends with specialists, creators, and free-minded people.
Vertical life: Emeline tells you everything to have a healthier and happier life. She explores the benefits of many activities and habits we should add to our life for our happiness' sake.
Personal experience, feelings and love   
Il faut qu'on parle: "We need to talk", presented by Mélanie Lecamus. Enjoy a podcast about love, relationships, and the virtue of failure. Every two weeks.
C'est compliqué (Slate): Listen to a journalist with no specific background in medicine or psychology who wants to talk about your problems.
Love story (Badabam): A podcast dedicated to love. Alice Deroide whispers the most beautiful love stories…. In French. I give a personal 5-star rank for the easy way she is audible which makes this podcast quite easy to follow, even if your level is beginner.
People
Les mauvaises langues: Mauvaises langues means "malicious gossip". If you like gossip and people, this podcast is for you.
Cinema
MDR: 100% comédies françaises (Binge):  A French podcast about comedies. This good-mood podcast will make you want to spend days watching comedies.
Tous les cinémas du monde: (RFI) The podcast which tells you everything you should know about movies in the world.
Children
Les petits curieux: A great podcast for children from 7 to 12 years old. The transcription is also available on the website, which is a great way to improve your listening skills.
Les p'tits bateaux:  Kids can call the following number every Sunday, +33 1 56 40 43 57, ask their questions, and have specialists and passionate people reply to them. Don't you want to give it a try?
To learn French
One thing in a French day: The podcast with script is available on the website. Laetitia has published a podcast for more than a decade. (Transcriptions not free)
Le Francais avec Yasmine: oui c'est moi! I publish a new podcast every Thursday and transcriptions are available to all students of I Learn French
That's it for the moment! Wow, more than 50 of the best French podcasts selected just for you! Which one would you like to listen to? Is there a French podcast you like and want to share with us?
Now it's your turn to improve your French skills and to implement a change in your life. Good luck!
I hope this helps. If you found value in this article and would like access to my exclusive content, join my weekly newsletter where I share tips and tricks to learn French! You won't find the content of my newsletter anywhere else and you will have direct access to me and my expertise. Join my newsletter below!