LE FRANÇAIS AVEC YASMINE:
Episode 24 : Quelle est la différence entre les verbes: amener, ramener, emmener, apporter, remporter et emporter ?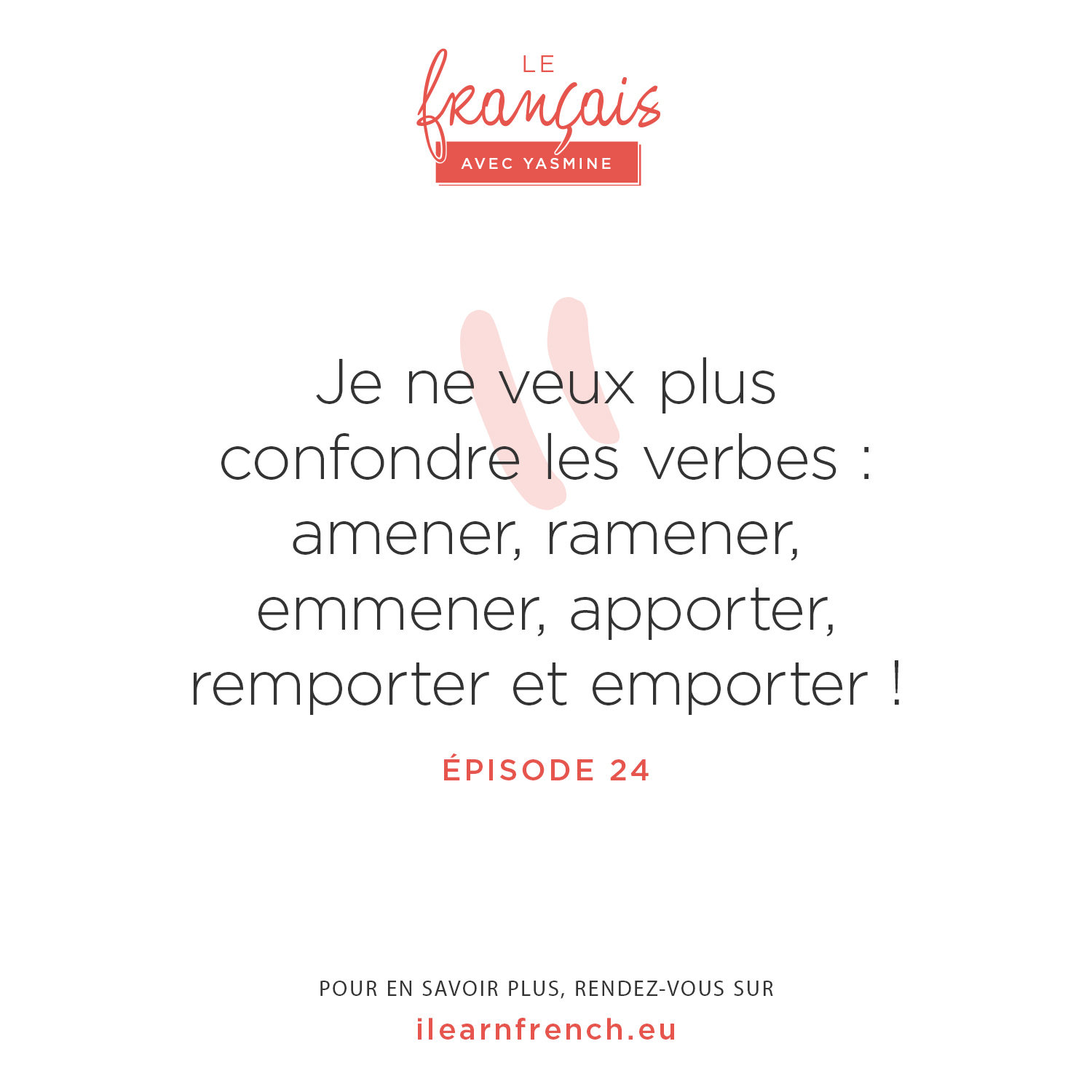 Est-ce que tu confondes les verbes ?
Ils ont une signification similaire, les natifs font des erreurs aussi et c'est difficile de s'en sortir et de connaitre quel verbe utilisé dans quelle situation?
Je te comprends! Ces verbes sont similaires et il est très facile de les confondre.
Grâce à cet épisode, tu vas apprendre les définitions de ces verbes et comment les utiliser encore mieux que les natifs!
Bonne écoute. 
A bientôt, 
Yasmine Lesire 
Des questions? Contacte-moi sur les réseaux sociaux.
La musique de cet épisode est créé par le groupe Beam.
Merci à Maayan Smith et son groupe pour la musique.
Pour suivre le groupe Beam:
https://www.facebook.com/beamband/
https://store.cdbaby.com/cd/beam3
Tu étudies avec nous? Télécharge ta transcription de ce podcast ! 
🇫🇷 Si tu as déjà pris des cours, tu peux t'inscrire afin de télécharger les transcriptions au format PDF.
Je n'ai pas encore de compte / I don't have an account yet
Je possède un compte / I already have an account
Reçois gratuitement une transcription! 
🇫🇷 Les transcriptions du podcast sont disponibles uniquement pour les élèves d'I Learn French.Exceptionnellement , je t'offre une transcription. Inscris-toi pour la recevoir! 
🇬🇧 Transcripts of the podcast are available only for students. I made an exception and I give you one transcript for free. Sign-up! 
I agree to giving my data and receiving email updates from Yasmine Lesire and I Learn French.