Online French Classes
Learn French Online – Anywhere in the world!
Online French classes are held in a virtual classroom environment. Teachers can use either Skype or Zoom; both are amazing. You'll be able to see, hear, and talk directly to your super teacher. The material will also be sent virtually during the class.
All the teachers at I Learn French are trained in-house to teach French online. You might think online classes require some adjusting but surprisingly, online French classes are just as fun and as interactive as your face-to-face classes.
Online French class in a group
It's a challenging time for the world and for Europe. Being socially distant is not fun. Continuing to focus on learning is the best way to keep your mind busy while doing something positive and rewarding.
At I Learn French, in addition to our regular private language class, we've decided to help as many people as possible for the coming two months to improve their language skills. To do so, we've opened different French courses online both privately and for groups.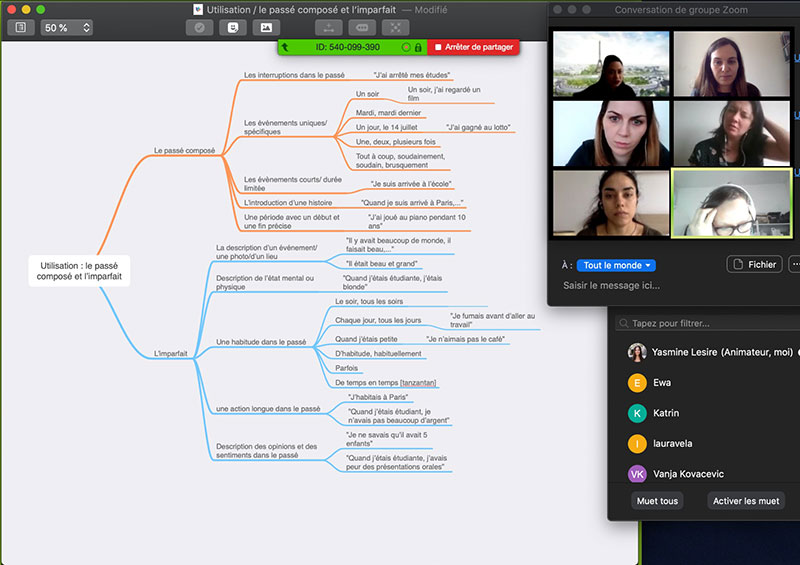 During your course, with an expert and experienced French teacher, you will :
✅ Learn something new if you are a complete beginner
✅ Brush up your French if you've continuously postponed your improvement
✅ Counteract loneliness
✅ Beat the boredom
✅ Meet people online and interact with them
✅ Be e-socially active
What are the conditions to attend our courses?
✅ Bring your smile
✅ We open a course and a level with minimum 6 students
✅ Payment paid once at the beginning of the month
✅ No refund for missed classes
Our courses are scheduled on European Central time (Paris, Brussels, Madrid, Rome).
Are you ready to learn French online with a dynamic group of students from around the world?

After quite a few months of no French lessons and no study, I joined online French classes with Yasmine, as part of a group of Parisiennes, all confined to our homes due to the COVID-19. I am so glad I decided to participate, my head is full of le subjonctif but also some funny "verlan" and typical slang used by native French speakers. I recommend online French classes as an easy and convenient way to learn to speak French with more confidence. You will also learn a lot about French culture!. 
Rachel Calvo
Self Employed Photographer and Web Designer