Ideal Christmas gifts for someone who is learning French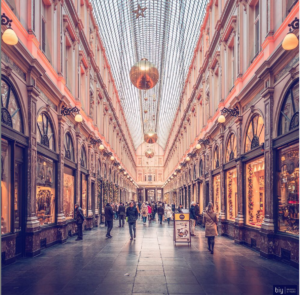 credit photo: www.brusselsisyours.com
I hate Christmas and Christmas shopping but…
I'm not anti-social and I still have a family and friends, so as long as I'm still interacting with people I love, I won't be able to avoid the Christmas season. The only thing I love about Christmas is the Vin chaud. 
I hate Christmas for many reasons and one of them is that it's very hard for me to find useful and great gifts. I always want to be original and I don't want to fall into the trap of giving the trendiest item. I always take it very personally when, for example, I offer a book and the person doesn't read it. I know I shouldn't, but I'm like this. 
I know finding useful gifts is challenging and we never have enough time to prepare our Christmas shopping. In this article, I will help you find useful, fun and interesting gifts related to the French language. Bye bye boring and horrible Christmas gifts. 
Here you go with my personal selections. I want to add that I'm not sponsored to talk about these products and I've been working on this article for many many months. 
Posters in French 
If you or your friend is a fan of movie, this poster with the 100 most important and must-see movies of all time can be a nice gift.

100 movies to watch before you die

If you (or your friend) are wine lover, while visiting the fair of the independent winegrowers association, I've found the best gift ever: Poster about wine, grapes, maps of French wines, Argentinian wines, How to choose your wine and based on your cheese, wine and yoga,…

La carte des vins-svp
Decoration in French
If you are trying to help someone learn French in a fun way, this gift might be nice as it helps people to create sentences on their fridge. It's time to write poetry in French on your fridge.

Magnetic words in French

Buy some light for your friend. This is a French company I discovered on Instagram and they create amazingly cute and customizable candles. I love them.

Bougie personnalisée végétale by BougiesVolige on Etsy
Books in French
I'm a bookworm and there are soooo many books I would like to recommend and share with you. If you would like to get my list of favorite books, you can get it here. 
They are available in many languages. They are very cute and little, easy to read books for kids and adults. 
You can personalize your gift and choose one character that defines your friend the most. For my boyfriend, who is French and very grumpy, I'll certainly choose the Monsieur Grincheux. 
Calendars are always a good idea
If you think you should be able to laugh about absolutely everything and you have no filter, this calendar is for you. Calendrier humour noir.
What about a bit of geography and French 
The best way to become smarter when you drink wine. You've probably experienced that but the French love to talk about regions when they talk about wine. Map of the French wine. 
Scratch-off Map of French specialities. If you are a foodie, you'll enjoy discovering new specialities.

Foodies map
Activities and games 
There are many games available in French such as Trivial poursuit or Monopoly and I found this one very useful and original. If you don't know what to do today, it will help you find inspiration and new ideas. And you, what do you do  today?

100 activities.
My last selection is more course and practice oriented. I highly recommend you to have a look at the following memberships to help you (or your friend) boost your French. 
Le français avec Yasmine.

This is the membership of my podcast

. Every week, you'll receive a newsletter in French with all my tips and tricks to boost your French including resources that I share nowhere else. In addition, and most importantly, you'll have access to the library of all the transcripts of my podcast. In December 2021, there are more than 79 podcast episodes and with its transcripts waiting for you inside my membership. 

Learning French with movies is an excellent idea to boost your listening skills and immerse yourself with content that it's not books. Also, you'll be able to pratice and discover a more "real life" French rather than "classic French".

This is what lignopie offers

. Learn a language with great TV shows.  
I hope this helps. If you found value in this article and would like access to my exclusive content, join my weekly newsletter where I share tips and tricks to learn French! You won't find the content of my newsletter anywhere else and you will have direct access to me and my expertise.