LE FRANÇAIS AVEC YASMINE:
Episode 16: Quelle est la différence entre "à nouveau" et "de nouveau"?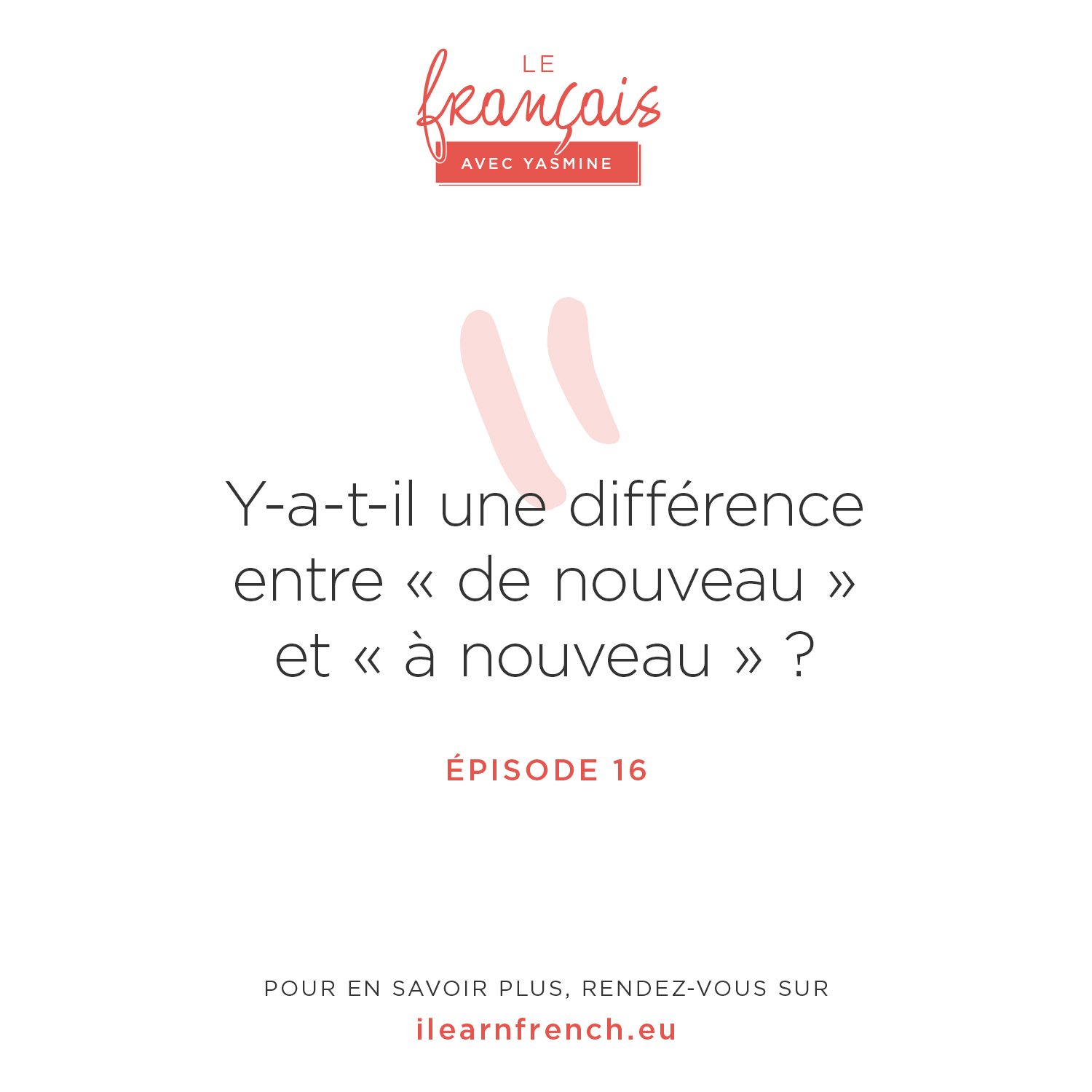 Bonjour, 
Quoi de neuf? 
Quoi de prévu cet été ? Pour ma part, je voulais aller de nouveau à Bruxelles pour voir mes amis mais finalement, je vais explorer la Bretagne. Connais-tu la Bretagne? Je n'y suis allée qu'une fois et je ne connais pas du tout cette région.
On m'a dit que lorsque tu vas en Bretagne, on aura envie d'y aller à nouveau. Je ne demande qu'à voir! Je t'en dirai des nouvelles!
Lundi prochain, le 20 juillet, c'est aussi mon anniversaire. Comme je ne suis pas organisée cette année, je pense que je vais le faire de nouveau au même endroit que l'année dernière. Bonjour l'originalité 😅
Et toi? Que vas-tu faire en août ? Vas-tu aller de nouveau dans un endroit que tu connais déjà? Si tu n'as rien de prévu et que tu veux est prêt(e) à enfin progresser en français, jette un oeil au cours intensif du mois d'août.
Pour connaitre la différence entre "à nouveau" et "de nouveau", c'est dans cet épisode. 
Bonne écoute !
Yasmine
La musique de cet épisode est créé par le groupe Beam.
Merci à Maayan Smith et son groupe pour la musique.
Pour suivre le groupe Beam: 
https://www.facebook.com/beamband/
https://store.cdbaby.com/cd/beam3
Tu veux lire la transcription d'un épisode?
🇫🇷 Inscris-toi et reçois la transcription d'un épisode du podcast gratuitement! En plus d'une transcription, tu recevras ta dose de français et l'épisode du podcast "le français avec Yasmine" dans ta boîte mail tous les jeudis. Tu peux te désinscrire à tout moment. Le niveau intermédiaire est recommandé.
🇬🇧 Receive a transcript of one episode of the podcast for free. Life-time access to all transcripts is only available for our students. In addition of one transcript, you'll receive your weekly dose of French in your mailbox. You can unsubscribe anytime. Intermediate level required.