Your Mid-Year Reality Check: 7 Powerful Reasons to Learn French In 2021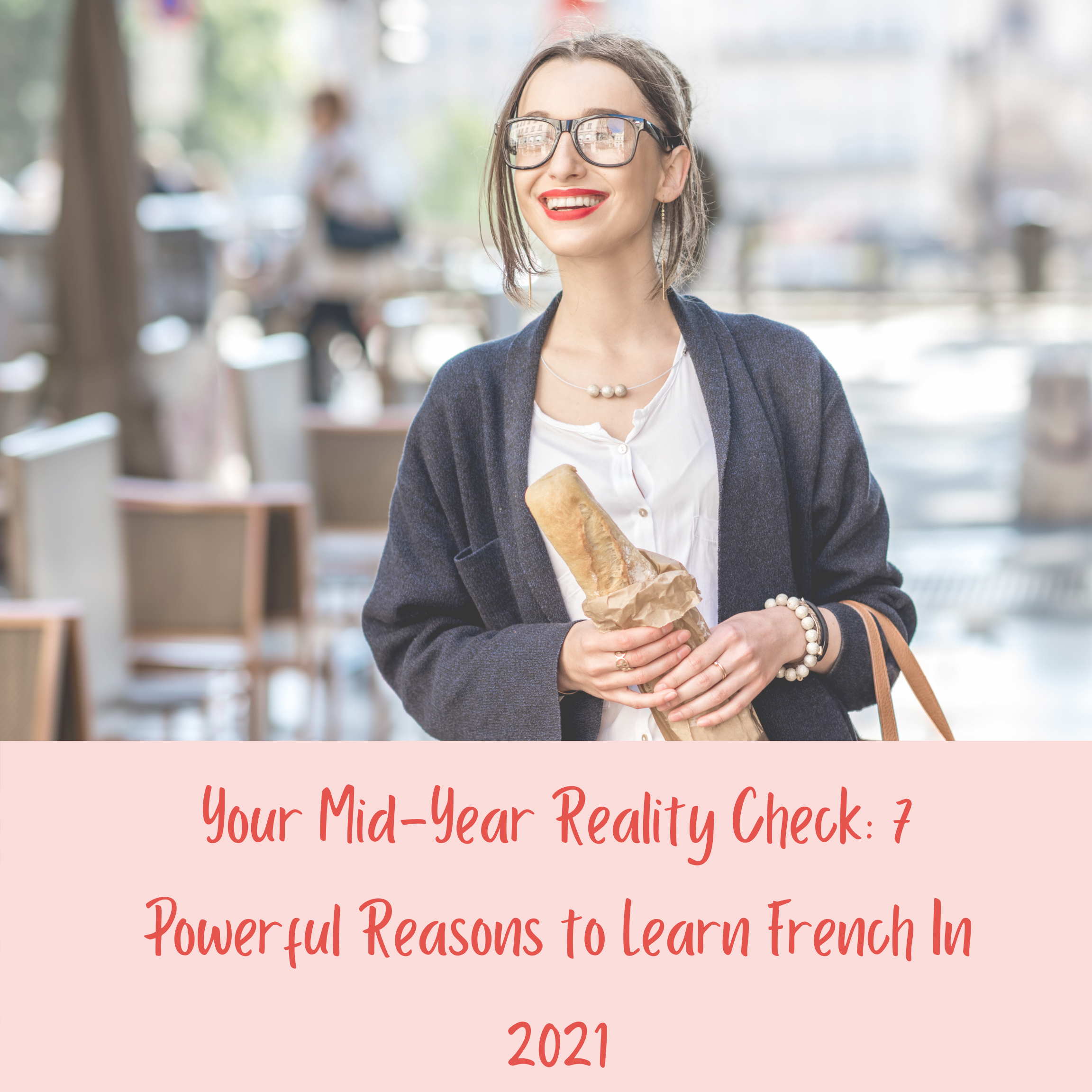 Are you one of those people who makes a New Year's Resolution every single year? Maybe you made one at the start of 2021, to learn or practise your French on a regular basis.

Or maybe you're waiting for December or January to roll around to finally start learning French. You tell yourself that a new year brings a new start, and a monumental task like learning a language should wait for the perfect kickoff…  
Well as your French teacher, I'm here to give you a gentle and loving reality check.

New Year's resolutions are boring. Every single year we tell ourselves the same story about how we're going to live a better life starting January 1st. Whether it be eating healthier, quitting smoking, learning French — you name it. Whenever the end of the year approaches, big promises abound. But let's face it. Nobody really follows them. One study found that a dismal 7% of people stick to their resolutions.

So why do we keep making these empty promises to ourselves each year? 
If learning and speaking French is your objective, let's stop making excuses and grab the rest of 2021 by the balls. Consider this your gentle kick-in-the-behind to get started and stop procrastinating yourself into oblivion.

Before I get into the 7 reasons why you should start learning French before 2021 slips away… Remember first and foremost that learning a language shouldn't be a negative experience. If you've had crappy teachers or traumatic experiences in the past — please don't let this define your future. Unfortunately, having bad teachers is a common experience for many and puts off a lot of students from ever achieving their French-speaking dreams (that's why I'm adamant about my school only having positive, fun, and compassionate teachers). 

Let's get some important facts straight:

Nobody is asking you to become bilingual or Molière. If your level is not C2 or advanced it's totally A-okay. You can (

and should

) still speak French! 

Making mistakes is the new black. Perfect is boring. 

Take the pressure off of yourself. Take your time and enjoy the journey. This isn't a competition or contest. 

You're allowed breaks

especially

if you're feeling overwhelmed. 

Having a real, sustainable, and practical routine is key. Find your own rhythm and stick to it. 

Finding and engaging with francophone communities isn't scary. It's super motivating. You just need to find the

right

community.

Interacting with people on social media is actually a great way to practise. Follow language learning accounts

like me

— but also accounts based on whatever hobbies you're into. Once you've followed a few, you can let the algorithm work its magic to propose new suggestions. 

So now that we've got that out of the way, here are the 7 reasons why you should learn French in 2021. 
You want to stop procrastinating

: It's been weeks, months, years, a lifetime of you dreaming that you'd be fluent in French. But as time goes by you keep finding new excuses to procrastinate. And you're fed up with it. For real this time. If you're procrastinating your language studies, chances are you're procrastinating in different areas of your life too. Maybe procrastination has become a bad habit you need to kick. The only way to reverse it is to show up for yourself and do the damn thing. Consistently.

 
You're interested in your personal development:

Learning a language isn't just about ordering a croissant with class and confidence (

though that's pretty cool too

). It's about overcoming mental obstacles, building resilience, and pushing yourself to grow and expand. It's about getting out of your bubble or comfort zone to grow and flourish as a person.

You want to be more independent:

This one's pretty obvious. Once you speak another language you are no longer at the mercy of translators. You'll no longer be held back by your fears and anxiety of calling the internet company or asking for your partner's help on translating a document. Instead of being governed by your hesitation, you'll be able to handle things on your own. And that's a truly liberating feeling.

You'll increase your self-esteem and radiate with confidence

: Once you have another language under your belt, you'll feel proud (and rightly so!). The feeling of accomplishment and success for both big and small victories will be

amazing

and trickle into all areas of your life.

You'll access a whole new world:

Speaking another language opens you up to new cultures and connections. It's like unlocking a new and different world — another way of seeing things, new friends or love interests, jokes and art you may not have understood before. It will add another dimension to your life.

You'll keep your brain sharp:

Research has shown that speaking another language is the best way to keep your mind sharp and prevent the negative impacts of aging. Our brain's elasticity is actually enhanced when we learn a foreign language (elasticity is a good thing)!

Your CV/resume will be rockin'

: When you flaunt a foreign language on your CV or LinkedIn profile you open the doors for professional opportunities. And some studies have shown that bilinguals may even make more money — so your investment may pay off in monetary terms.
Okay so now that you have these 7 powerful motivating reasons to learn French in 2021, what's your next move? Intensive group course or private lessons? Self-study?

Let me know what you choose and how I can help you in the comments below! 

#blog 
"I hope this helps. If you found value in this article and would like access to my exclusive content, join my weekly newsletter where I share tips and tricks to learn French! You won't find the content of my newsletter anywhere else and you will have direct access to me and my expertise."