From Beginner to Advanced this is the boost your French needs …
Learn and Thrive with Monthly Online Intensive French Courses
The best solution to amp up your learning ASAP and start speaking en Français 
Have you put off learning French because you felt overwhelmed? Uninspired?
Like you were improving at a snail's pace?
If you've ever studied French, you can probably relate to  … 
Snooze-worthy learning materials that feel like they came from the last century.
The stress of memorizing mind-numbing vocabulary lists and bloody exceptions.
Juggling all the confusing French tenses and feeling like your brain is going to explode.
Freezing in conversations with native speakers — and feeling like you forgot everything you've ever learned.
Being intimidated by grammar rules and understanding its logic even in your own native language.
Straining to understand spoken French, especially when words link together in liaison.
Stumbling over your words with the tricky and nonsensical French pronunciation.
Battling nervousness and frustration with your language dependency and lack of progress.
Uncompassionate teachers (or witches) who made you feel dumb, not legitimate and hopeless.
You see it's normal to feel uncomfortable and nervous when learning a language … but the truth is learning French
doesn't need to be
boring, stressful
or
scary
. Learning
French should actually be enjoyable and motivating
…
We're here to show you that there's a different, more enjoyable way and you can reach your French-learning goals
sans
stress.
You can learn grammar without textbooks from the '90's… You can talk about topics that actually interest you and master practical vocabulary… You can level-up your pronunciation with real time feedback… And you can improve your comprehension of real francophones with
real
materials. 
You can be
confident, fearless
and
autonomous in French
.
And you can do all this right from your laptop.
Get on the waitlist for the official launch!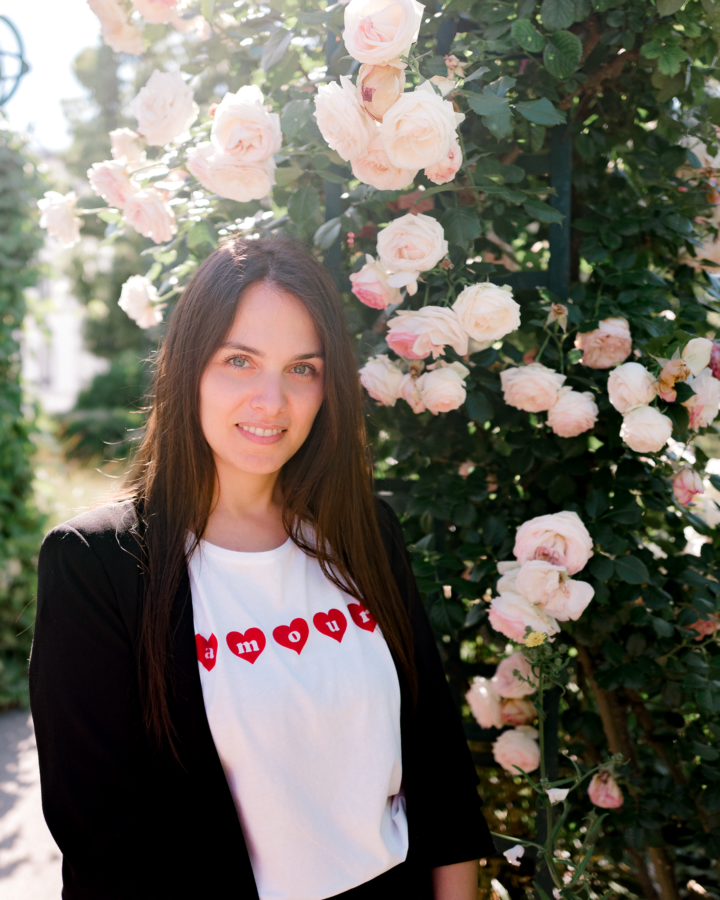 Salut!
Je suis Yasmine from Le Français avec Yasmine.
I'm your rebel French teacher with superpowers. Together with my team I'm here to transform your French from awkward to amazing.
I've been happily teaching for 12 years and run two successful schools in Paris and Brussels. Accredited by the European Commission, OECD and la Direccte, I help busy top executives in high places improve their French.
Now, I offer online intensive French courses to help as many introverts and francophone-wannabes realize their French-speaking dreams.
It takes at least 21 days to form a new habit. And good habits are the key to success.  
For one month, you can build a new French habit and ignite your skills. By speaking and studying every single day for one hour, you'll boost your vocab, learn new grammar, fine-tune your comprehension and ace your
chit chat
in a fun and supportive setting.
You'll cultivate your growth for success and look back on your progress with pride…
Because not only will you be more confident
en français
, but you'll have the tools to explore the language and culture courageously…  
With our intensive monthly courses, we know that
repetition and routine are the necessary building blocks to learn a language
. 
From Monday to Friday our certified teachers meet with you every day to teach you French in an applicable, relevant and cool way.  
Yes, you'll learn grammar, prononciation, comprehension and all that fun stuff … but you'll also learn how to express yourself,
live in the language
and meet your goals…
Plus, since science proves your brain works better when you're laughing —
we put an extra emphasis on fun
. We encourage joy and happiness to help improve your memory and retention.
Learning a language is a marathon, and if you don't fall in love with the process — it's going to be a whole lot harder than it needs to be. 
Our online intensive French courses offer you the structured habit-forming classes you need, that will have you speaking, learning and thinking in French …
TESTIMONIALS
We love our students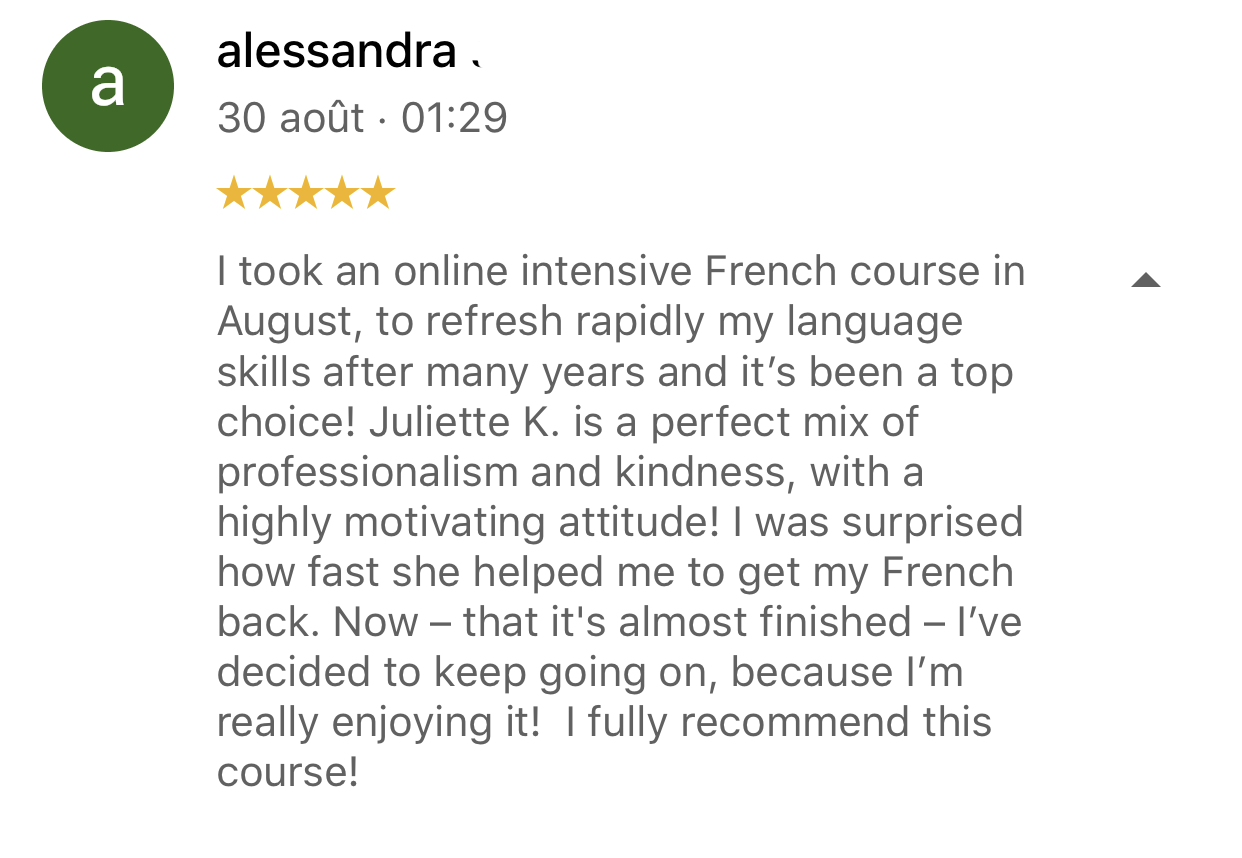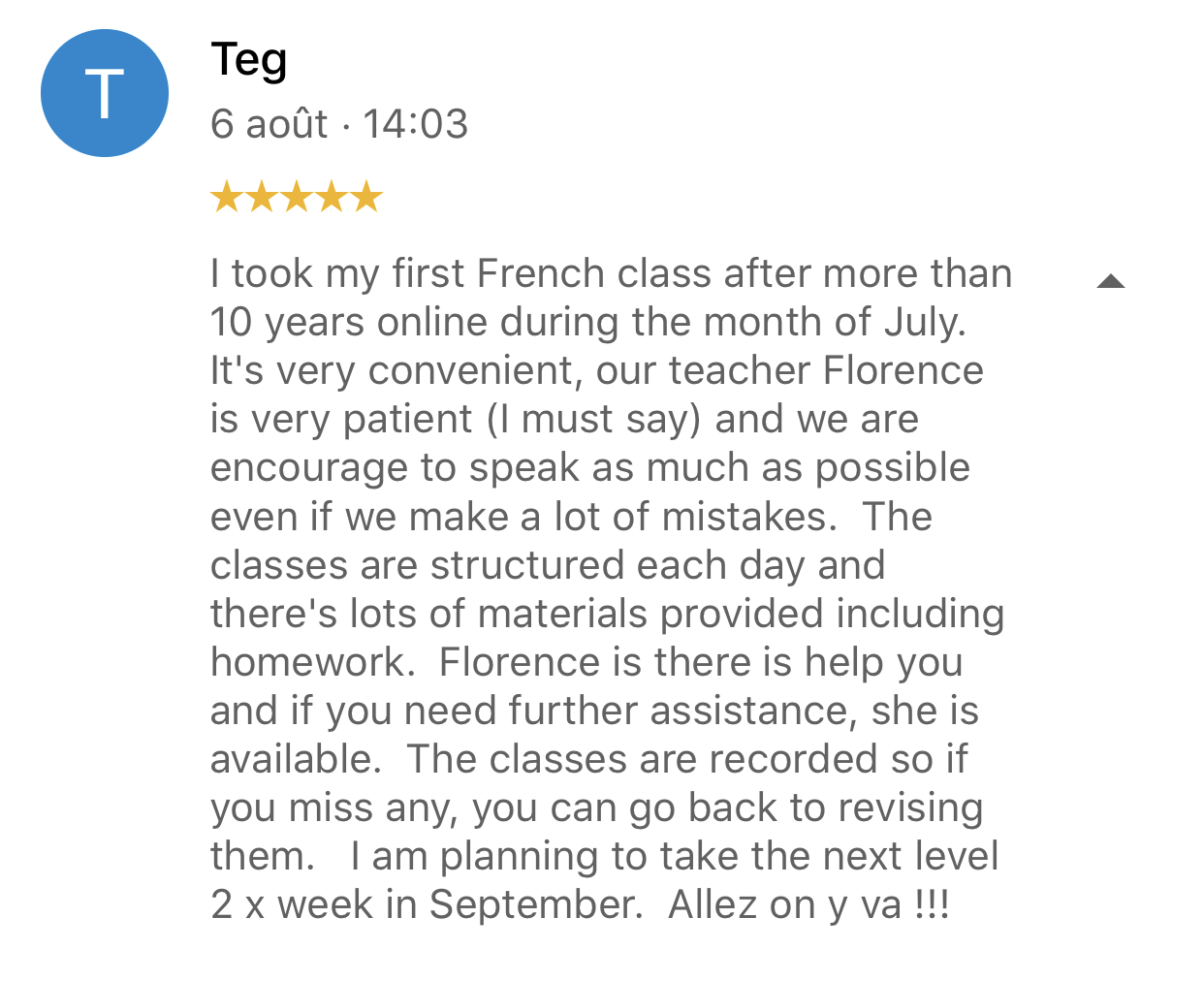 INTENSIVE MONTHLY COURSE: 5 hours/ week
Join one of our online intensive French courses and this is what to expect …
In your respective level, you'll choose from either Group One (9:00 Paris Time) or Group Two (18:00 Paris time).
([userip_location type=timezone])
Meet online 5 x a week every day Monday to Friday for 1 hour, Bank Holidays included — groups meet for 1 month.
Small and intimate groups of no larger than 5, meet on Webex.
Clear and efficient instruction from a highly-skilled, certified and compassionate teacher.
Grammar and homework, with homework corrections included.
If you miss a lesson you can watch the replay for 48 hours.
Track your individual progress with a monthly personalised report from your teacher.
Free pre-course assessment to determine your level and make sure you're in the right class and tweak the course to your needs.
Lifetime access to a lively and private student Facebook group for additional feedback and support
Lifetime access to the transcripts of the podcast Le Français avec Yasmine.
French classes
We teach French like this:
A1 : le passé composé avec le verbe "être"
B1 : Vocabulaire et conversation.
A2: Révision du passé composé.
B2 : Révision du subjonctif.
Yes you can
With the online intensive French courses, you'll …
Level-up your French the fastest and most efficient way humanly possible with a proven structured methodology and certified kick-ass teachers.
Dramatically improve your comprehension with conversation-based classes that are conducted 100% in French.
Get weekly individual and personalised feedback from your teacher so you can track your progress to see where you're rocking it, where you can improve and how far you've come.
Thrive in a small group no bigger than 5 so you can comfortably connect in a safe, motivating and supportive learning environment.
Overcome mindset gremlins, stop being so hard on yourself and courageously explore the French language and culture.
Be prepared for the real francophone world with authentic materials and relevant topics you can actually use outside the classroom — no more boring children and grammar books.
Fall in love with the French language, your unique learning journey and laugh as you grow
Be connected to a community of French learners so you can continue learning and immersing after the course.
Get on the waitlist for the official launch!
TESTIMONIALS
We love our students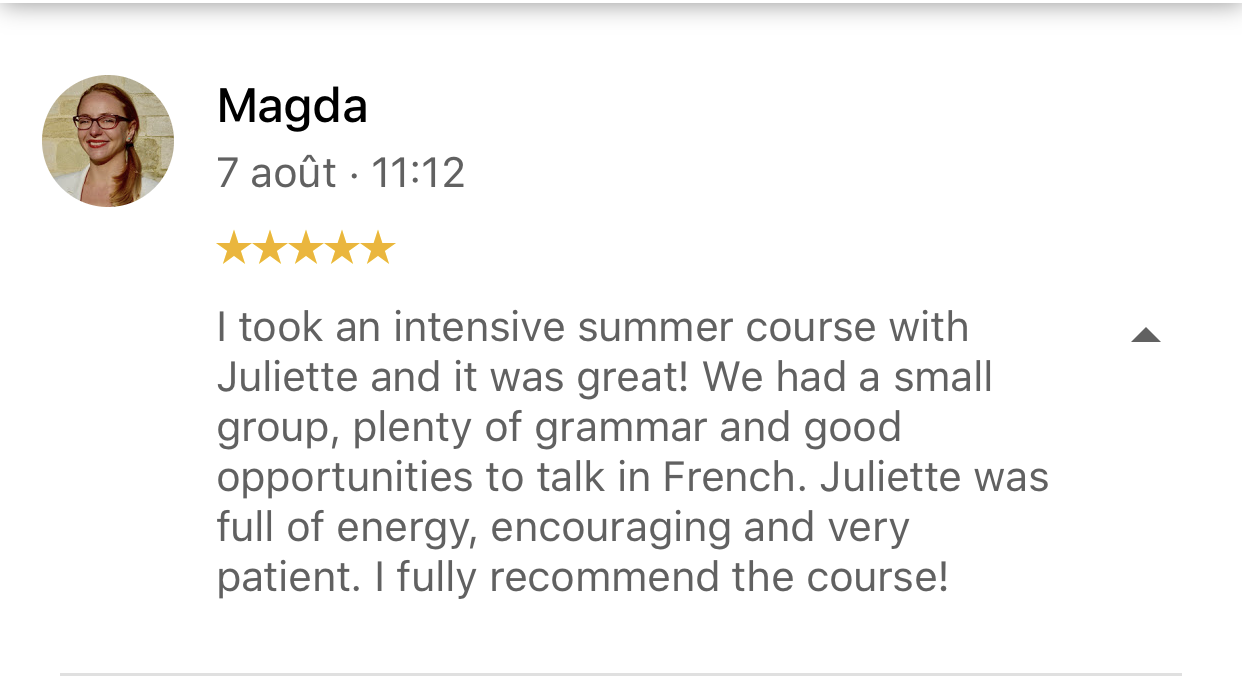 Yes you can
These group classes are for you if….
You need French for work, family life (like in-laws or children), or survival and you want to reach your goals as fast as possible.
You want structure and routine that includes grammar and homework.
You can make the time commitment of 1 hour per day Monday to Friday for a whole month, plus extra time for self-study.
You're an introvert wanting to build confidence, prepare for real life situations and connect with others in a safe learning environment.
You're an expat or a francophile and want to integrate or enrich your experience in a French-speaking country with real spoken French.
You're a team player who is open to connecting with other French learners and making new friends.
You're ready to make a move, empower yourself and finally be independent in French.
You want to learn, have fun and end 2020 on a high note!
Refund policy
This course is not for you if:
You're unmotivated, don't believe in hard work, and are not willing to put in the effort between lessons.
You're not ready to make an investment into yourself and your learning.
You hate the French language and are being forced to learn because of school, work etc.
You think you'll be fluent in 2 weeks with zero effort — learning a language is a marathon. It takes time, practice and consistency. There are no magical shortcuts or quick fixes.
You're not responsible, punctual or committed to learning — please don't waste your time or ours.
You have a bad attitude and are a know-it-all. We only want good vibes here!
Get on the waitlist for the official launch!
Yes you can
Why We Created These Group Classes
For years, we've been offering in-person intensive summer courses in our Paris and Brussels schools. With the pandemic and to help as many people as possible, we moved our courses online. Due to popular demand, our online intensive French courses now run throughout the year — with new courses starting on the first business day of each month. We have students from all over the world, in different zones who are rockstar francophones in the making. 
If you're ready to invest in yourself, this is the best option. These courses are the most efficient way to learn and improve your French, and all it takes is a couple of hours a day. 
Plus, our courses are more than teaching you grammar and syntax —  they are about teaching you to be confident and autonomous. 
All our teachers are language learners themselves and understand the unique needs of adult learners… we also know what it feels like to freak out and panic when trying to communicate in a foreign language… to blush and feel nervous … to battle mindset gremlins and self-doubt.
We're here to show you how to
be comfortable with being uncomfortable
and how to
stop being so hard on yourself
. 
And we want to help as many people as possible. ⭐
"Every single qualification for success is acquired through habit. People form habits and habits form futures." - Albert Gray
We purposefully keep our groups small (6 persons max) so that you get the support you need to succeed.
Registration closes firmly
3 days before classes start
. No exceptions. In order to keep the integrity of the group,
you cannot join a course late
.
TESTIMONIALS
We love our students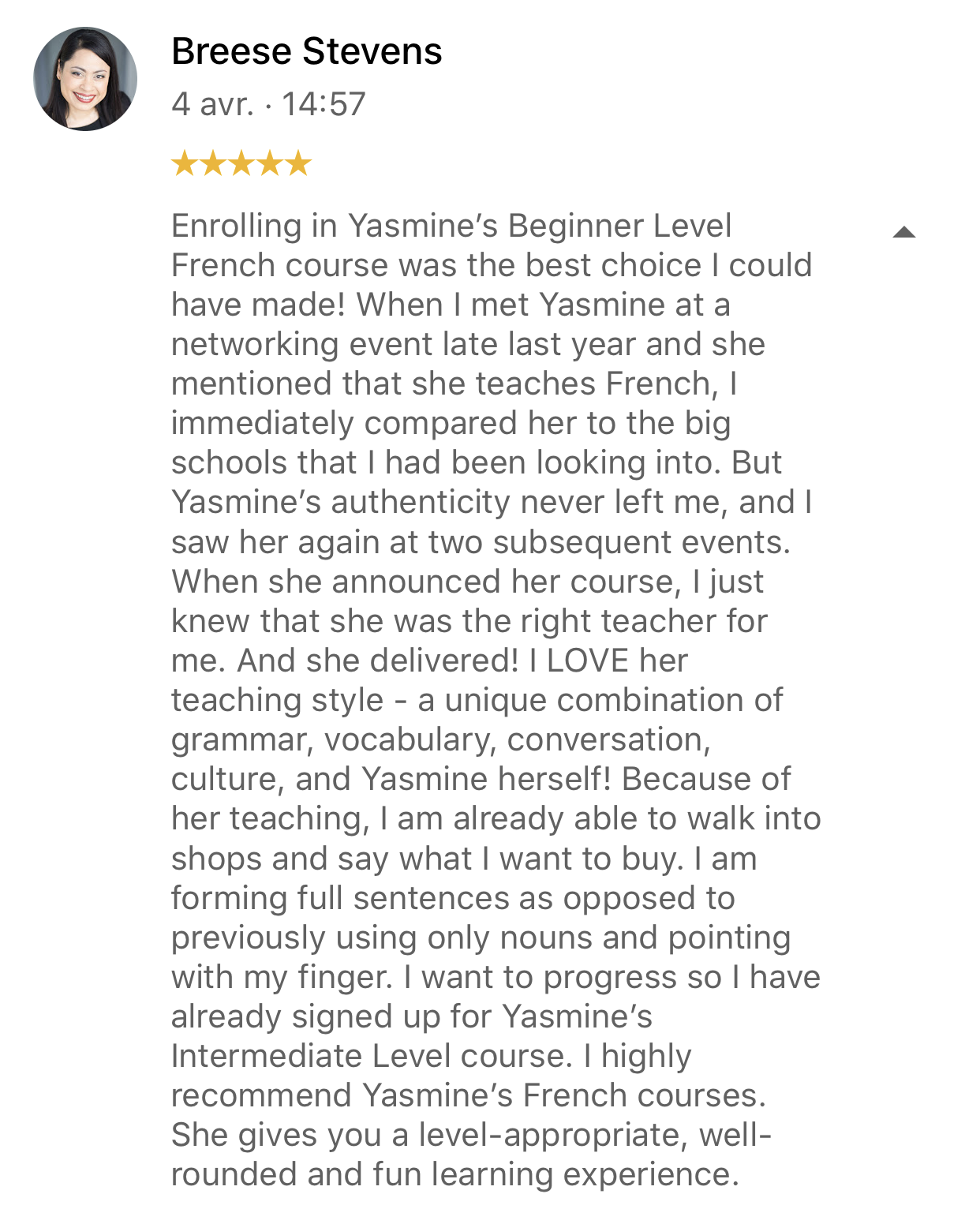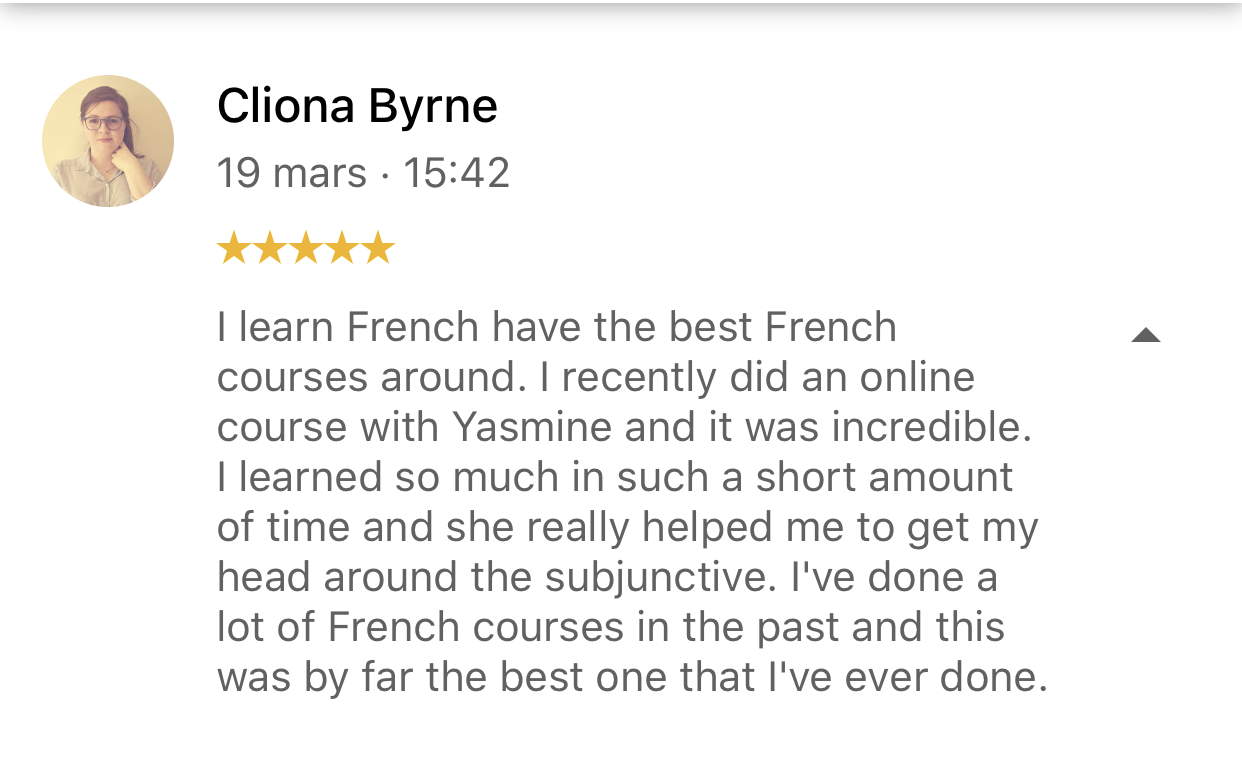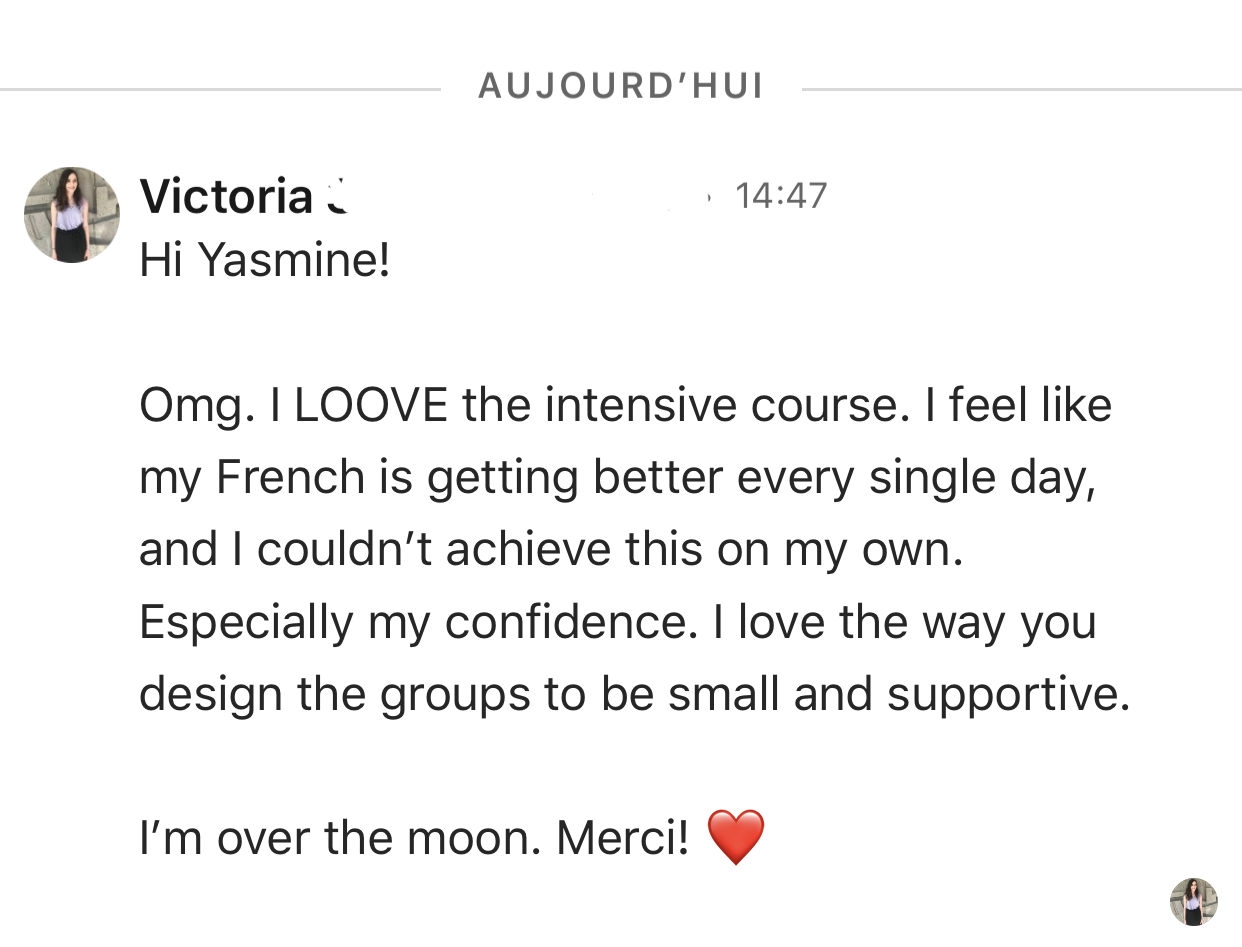 Refund policy
Money Back Guarantee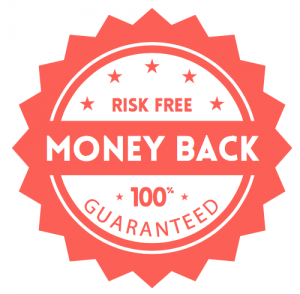 At
I Learn French
we value customer happiness over money. We've worked with prestigious institutions and customers since 2008 (like the OECD and the United Nations!). We've done our homework and we know our stuff. And we're completely convinced that our courses will make you speak and improve your French. However, if after 5 hours of attending our classes, doing all the required homework, re-reading your notes, and the honest hard work on your side — you still don't progress: show us your work and we'll give you your money back.
You can send an email to
bonjour@ilearnfrench.com
with "Refund" in the subject line. 
Are you ready to jumpstart your French back to life? 💓
After one month of hard work, you'll supercharge your language skills and be more independent and confident in French. That feeling of autonomy in another language is one of the best feelings in the world… Not to mention the ability to authentically connect with others in a foreign language! Wouldn't it be worth the hard work? Register today and join our fun-loving kick-ass intensive classes. If you're not 100% certain of your level, don't worry. Take an educated guess and choose one. We'll email you with a placement test, to ensure you make it to the right group. Choose your level, your time preference and register today. Plus within 24 hours of purchase you'll get access to the Facebook Group and Le Francais avec Yasmine transcripts, so you can start learning ASAP. So if you're ready to breathe, chill, be nicer to yourself while reaching your goals …
Book your course now!
Reserve Your Seat
Get on the waitlist for the official launch!
FAQ
Frequently Asked Questions
Closed
What if I'm unsure of my level in French?
If you're unsure, don't worry. Choose your best guess. After your register, we'll send you a placement exam and make sure you're in the right group. If for any reason the group you are placed in is too difficult or too easy, we will move you to the right group.
I have never spoken French before, is this course still good for me?
Yes, absolute beginners are welcome — just sign up for the absolute beginner course. 
What is the background of the teachers? Can I see their resumes?
We only work with teachers who understand what language learning is like as an adult — that's why all our teachers come from an international background and are multilingual. We only hire passionate teachers who are in love with their language and enjoy what they do! Rest assured, all our teachers receive in-house training and follow the proven and efficient
I Learn French
methodology.
The profiles of certain teachers are available

here

.

I Learn French

is a language agency that works with officially registered freelance teachers and we respect the privacy of those instructors who don't wish to be listed. 

If you're interested in looking at the resume of our founder, Yasmine Lesire,

you can see check out her Linkedin here

. Feel free to say

bonjour

! 
🍾This is the surefire way to achieve your French speaking dreams